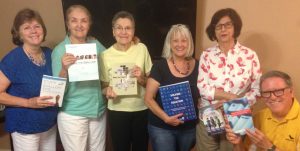 Our book study continues on "Hidden Figures" to find hidden ideas to scale WISE schools.  After watching the movie, twice for some of us, we decided this would be a great feature showing for the next year.  Pictured are other books on the topic of scaling women in computer science.  See article on Hidden Figures.
Please join us Oct. 30th for wine, cheese and conversation. We will continue our book study on "Hidden Figures" to scale WISE ideas in schools. Teachers are role models, idea makers, and explorers searching to find hidden figures in every classroom. They can bridge the classroom with the real world by enhancing their lessons with local business leaders like our presenters at EYH. Please share your tricks, treats, and ideas on how to expand the inspiration that our conference starts. Tweet #aauwwsf for how to get involved.
What was most memorable about "Hidden Figures" from NCWIT?
CSforAll – Our Modern Day Space Race
Discussion Question Ideas:
What was most memorable from the first chapters in the book?
What are Hidden Figures?
Do you know any?
How do you find them?
What ideas do you have to help find Hidden Figures in your local schools?
Can you tweet your thoughts to #AAUWWSF ?
Scaling Ideas:
Hidden Figure Role Models:
Teacher Resources